Kratom, an organic substance touted by its supporters as a pain reliever and addiction fighter, is currently on the same kind of path toward Colorado regulation previously taken by marijuana. And Faith Day, a local kratom entrepreneur who's already branched out to other states, is optimistic that the product, which is still viewed with suspicion by the federal Food and Drug Administration, will soon earn the state's blessing.
"The kratom situation is going to be like cannabis, where we're going to be registered like a dispensary," she predicts.
Such an outcome would reflect an enormous shift since November 2017, when Denver Environmental Health, the agency now known as the Denver Department of Public Health & Environment, formally banned kratom for human consumption within city limits. The move was triggered by warnings from the FDA, which continues to view kratom negatively. "FDA is concerned that kratom, which affects the same opioid brain receptors as morphine, appears to have properties that expose users to the risks of addiction, abuse and dependence," its latest advisory states.
The American Kratom Association, a national advocacy organization, argues that such assertions are based on flawed research that's been debunked by numerous scientific studies. And while universal agreement on kratom's safety has not yet been reached, the AKA lobbied successfully for the passage of variations on its so-called Kratom Consumer Protection Act in four states in 2019, with five more approving regulations since then.
Last year, the Colorado Legislature moved in this direction by approving Senate Bill 22-120, "Regulation of Kratom Processors," a measure co-sponsored by senators Joann Ginal and Don Coram and Representative Tom Sullivan. The act, signed into law by Governor Jared Polis, required the Colorado Department of Revenue's executive director to submit a report to the General Assembly "that analyzes the feasibility of regulating kratom products, kratom processors and kratom retailers." In addition, the bill prohibits individuals from selling kratom to anyone under age 21, as well as "knowingly preparing, distributing, advertising, selling, or offering to sell a kratom product that is adulterated with fentanyl or any other controlled substance" as of July 1, 2024.
Such rules are enthusiastically backed by Day, who believes that kratom saved her life. As she told Westword in a 2018 interview, she used the Southeast Asian substance, also known as mitragyna speciosa, to kick a heroin habit that had reduced her to living in her car. After getting clean, she opened Clean Kratom Wellness Center, which now has three locations in Colorado (Lakewood, Denver and Alamosa), as well as a retail outlet and manufacturing facility in Portland, Oregon. Authorities in Utah have also designated Clean Kratom as an approved vendor for bulk sales and direct-to-consumer transactions through other stores.
In Denver, the city's health department requires kratom products to bear stickers stating that people shouldn't consume them, although spokesperson Emily Williams told Westword last year that the agency stopped citing businesses for violations after SB22-120 was introduced.
click to enlarge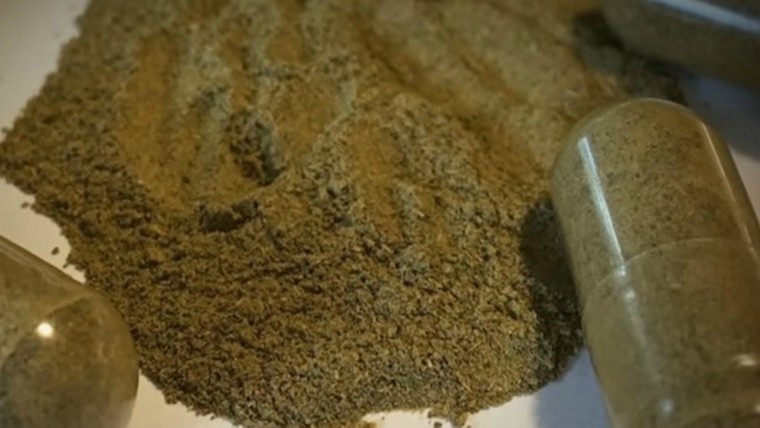 The study produced by the Department of Revenue under the bill's requirements, accompanied by a supplementary document, was made public on January 4 following public meetings in October and December. Shannon Gray, public information officer for the Marijuana Enforcement Division, the Department of Revenue affiliate overseeing the kratom study, stresses that the DOR "researched and evaluated over twenty different topic areas related to the feasibility of regulating kratom, including but not limited to appropriate definitions, manufacturing standards, licensing/registration requirements, testing standards, and appropriate age restrictions for purchasing and consumption of kratom products. Further, SB22-120 required the Department to make recommendations regarding the regulation of kratom products, kratom processors and kratom retailers."
The final report "walks through ten recommendations that are rooted in protecting public health and maintaining consumer access to kratom products. The report supplement includes additional information that directly or indirectly informed the recommendations and provides background information regarding the stakeholder engagement that the Department worked through."
The authors of the study don't actively promote kratom regulation, but their conclusion certainly doesn't rail against the concept.
"Nine other states currently regulate kratom," it points out, "and based on stakeholder outreach conducted by the Department, an appetite exists in this state for legislative action. The vast majority of industry stakeholders that the Department communicated with support regulation. The science behind the effects and safety of kratom products for consumers has not been definitively established and research is ongoing. Therefore, the Department believes the recommendations contained in this report strike a balance between the viewpoints of various stakeholders and represent an appropriate initial regulatory structure while providing the Department and other state agencies authority to adapt to the emerging and evolving kratom market."
Day says she welcomes the sorts of rules proposed by the study and is particularly vocal about the need for testing requirements, based on personal experience.
"At the end of 2019, I bought some third-party items, and when I submitted them to a lab, they tested positive for chloroform, a widely used solvent for a number of things that wasn't extracted all the way out — and it can cause serious liver damage and other issues," she says. "And chloroform isn't the only potential problem. There can also be high levels of methanol and alcohol — and since a lot of people using kratom are trying to get clean, having access to alcohol and other chemicals can cause a harmful reaction in someone's body. That's why the state is making kratom similar to cannabis and putting in strict guidelines about what's going to be allowed to be used as solvents, and also the limits on solvents."
She continues: "This is really about consumer safety and making sure people are getting what they need. Kratom is a harm-reduction tool. We stand behind that, and we think the state has done an excellent job of listening to our vendor concerns, so that we can make sure we don't get into a situation where people are getting an adulterated product."
According to Gray, "The next steps are for the General Assembly to review the report to inform whether to adopt any or all of the recommendations into law. … The Department will be prepared to engage as necessary and appropriate if a bill is introduced."
Day expects that to happen soon. "I have been hoping things would turn out this exact way since I started with this in 2017, and I'm very happy that the state has been really getting involved," she says. "This way, we won't be operating in a gray area at the mercy of the FDA — and we can help a lot more people."
Click to read the kratom feasibility report and its accompanying supplement.