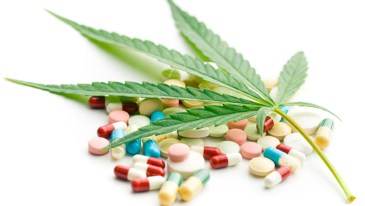 The use of medical cannabis products is associated with substantial long-term decreases in the daily use of prescription opioids among patients suffering from chronic pain, according to data published today in the Journal of the American Medical Association (JAMA) Network Open.
Researchers affiliated with the State University of New York at Albany and with the New York State Department of Health assessed the impact of medical cannabis on opioid use patterns in a cohort of over 8,000 chronic pain patients receiving long-term opioid therapy (LOT). Subjects were studied for a period of eight months.
Investigators reported that patients' daily MME (morphine milligram intake) diminished following cannabis therapy and that this decline grew more significantly over time.
"In this cohort study of patients receiving LOT, receiving MC [medical cannabis] for a longer duration was associated with reductions in opioid dosages," they concluded. "These findings contribute robust evidence for clinicians regarding the potential benefits of MC in reducing the opioid burden for patients receiving LOT and possibly reduc[ing] their risk for overdose."
The findings are consistent with numerous other studies documenting that patients frequently use cannabis for pain mitigation, and that many patients either reduce or eliminate their consumption of opioids and other medications following the initiation of cannabis therapy.
"The relationship between cannabis and opioid use is among of the best-documented aspects of marijuana policy," NORML Deputy Director Paul Armentano said. "In short, the science demonstrates that marijuana is a relatively safe and effective pain reliever — and that patients with legal access to it consistently reduce their use of prescription opioid medications."
Data published earlier this month in the same journal reported that nearly one in three patients with chronic pain use cannabis as an analgesic agent, and many of those who do substitute in place of opioids.
In clinical trials, the co-administration of either smoked cannabis or oral cannabinoids has been documented to augment the pain-relieving effects of opioids. In one study, vaporized herbal cannabis was demonstrated to enhance the pain-relieving activity of morphine and oxycodone in chronic pain subjects, therefore potentially allowing "for opioid treatment at lower doses with fewer side effects." Another study reported similarly enhanced analgesic efficacy when low doses of oral THC were combined with hydromorphone (aka Dilaudid). Authors reported, "These data … are indicative of [the] possible opioid-sparing effects" of cannabinoids. These synergistic effects have also been documented in settings where subjects were provided with only sub-therapeutic doses of cannabis and opioids.
Full text of the study, "Changes in prescribed opioid dosages among patients receiving medical cannabis for chronic pain, New York State, 2017-2019," is available from the Journal of the American Medical Association (JAMA) Network Open. Additional information is available from the NORML Fact Sheet, 'Relationship Between Marijuana and Opioids.'