NOTE: Sustainable packaging wasn't the only area of interest at PACK EXPO. Click the links that follow to read more about innovations in: Machinery   |  Food Processing & Packaging    |  Robotics    |  Pharma    |  Controls
Many times at a PACK EXPO booth it's the display case that best reflects recent innovations an exhibitor has successfully brought to the marketplace. This was certainly the case at Berry Global. Two we've already reported on, a lightweight Mars candy container using PCR, and a 100% rPET food color bottle by McCormick.
But three other notable items not familiar to our editorial team were also on display:
• Tchibo coffee capsules—A partnership among Berry Global, its customer Tchibo, and its feedstock supplier Neste has resulted in a potentially game-changing development in the coffee capsule market with the introduction of a thermoformed PP capsule made partly from renewable sources (1). Rather than virgin PP that is made from  non-renewable fossil fuel sources, the polymers used for the Tchibo capsules are sourced from renewable raw materials such as residue cooking oils and fats. A life cycle assessment by the Technical University of Berlin, carried out in compliance with ISO 14040/44, has shown that the conversion of the Qbo capsule material results in around 35% fewer CO2 emissions compared to materials more commonly used today.
"We are pleased to offer Qbo capsules made of PP, now produced from 70% renewable raw materials," says Marius-Konstantin Wiche, development manager, capsule and innovation at Hamburg, Germany-based Tchibo. "This makes the entire Qbo range—containing sustainably grown Qbo coffee brewed in Qbo machines—one of the most sustainable capsule systems on the market."
The renewable materials are supplied via an approach certified by the International Sustainability & Carbon (ISCC PLUS) system. This certification makes it possible to articulate on the packaging the proportion of renewable raw materials used to make the package. So the certification provides full traceability throughout the supply chain, from raw materials to finished coffee capsule, as well as sustainability validation of the raw materials. Just as important, the new capsules provide an identical performance and consumer experience. Plus the renewable feedstock can be easily introduced into existing production lines with no changes required.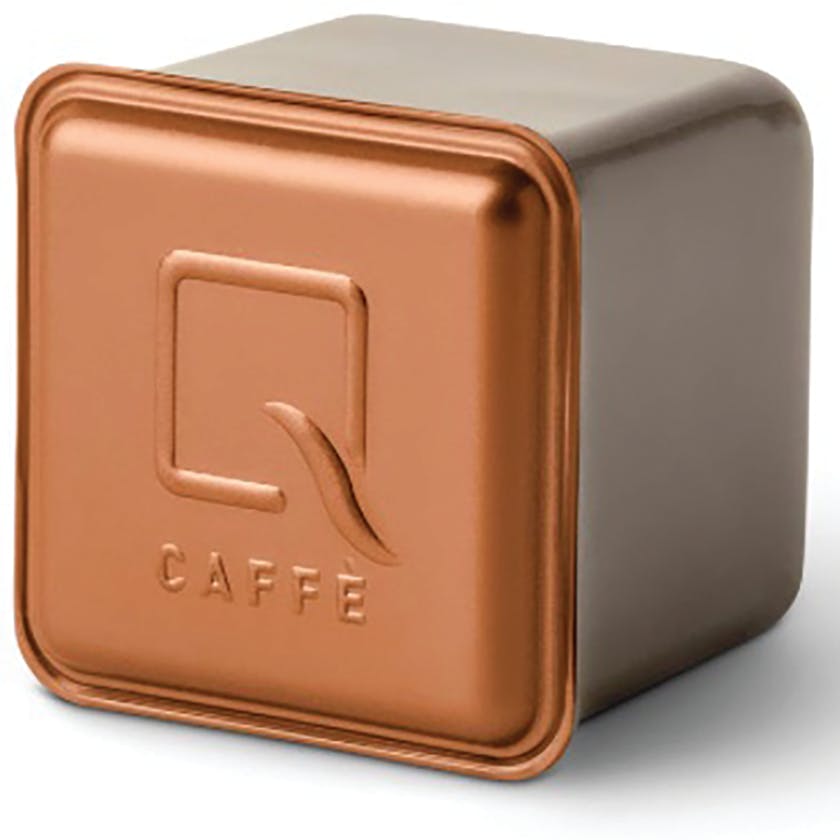 "We needed to ensure that the high quality and great taste of the Qbo coffee would not be affected," says Wiche. "That's why we focused on replacing the raw materials for the capsules, not the PP itself. The renewable materials go into producing PP polymers with the same quality as virgin PP; you won't see or taste any difference."
Berry says it combined its sustainability leadership in the selection of the right qualified raw materials with its technical skills for the efficient manufacture of the capsules to accelerate the conversion to this more sustainable, circular solution. The company's expertise in design for circularity allows for multiple potential solutions to be developed for the future manufacture of coffee capsules, thanks to its ISCC PLUS certified site in Bremervörde, Germany. The ISCC PLUS certification not only ensured that food contact approval was granted for the new materials, it also allows for the quick transition to additional applications over time.
"We chose Berry for this project as they have experience with our product and hold the required ISCC PLUS certification to produce the capsules from renewable materials," says Wiche. "The company's knowledge of extrusion and thermoforming for our capsules is excellent, and we also appreciate their in-house engineering and machining of related parts for our products."
For Berry, the introduction of the new capsules supports its recently announced commitment to achieve 30% circular plastics use across its fast-moving consumer goods packaging by 2030 as the company envisions decoupling from virgin plastic and fossil fuels in the long term.
"Supporting our customers' growing sustainability commitments is a key priority as we plan for the future needs of a net-zero, circular economy," says Jean-Marc Galvez, President of Berry's Consumer Packaging International Division. "Delivering the infrastructure and manufacturing capabilities to design products for circularity is one of our core competencies. I am incredibly proud of this partnership and its commitment to demonstrate the potential of renewable raw materials to lower the environmental impact of capsules."
"Together," says Wiche, "our Tchibo/Neste/Berry team has created a fantastic result. The Qbo coffee still maintains its premium quality, but now in a capsule produced with less CO2 emissions."
• Tesco/Heinz/Berry project—Berry Global is collaborating in a first-of-its kind project launched by Heinz and Tesco in the UK to permit the chemical recycling of flexible film packaging dropped off by customers at Tesco's in-store collection points. Also on the team are recycling technology experts Plastic Energy and SABIC, and together the team has launched a pioneering trial with the development of new Heinz Beanz Snap Pots (2) that incorporate 39% ISCC PLUS-certified recycled flexible film.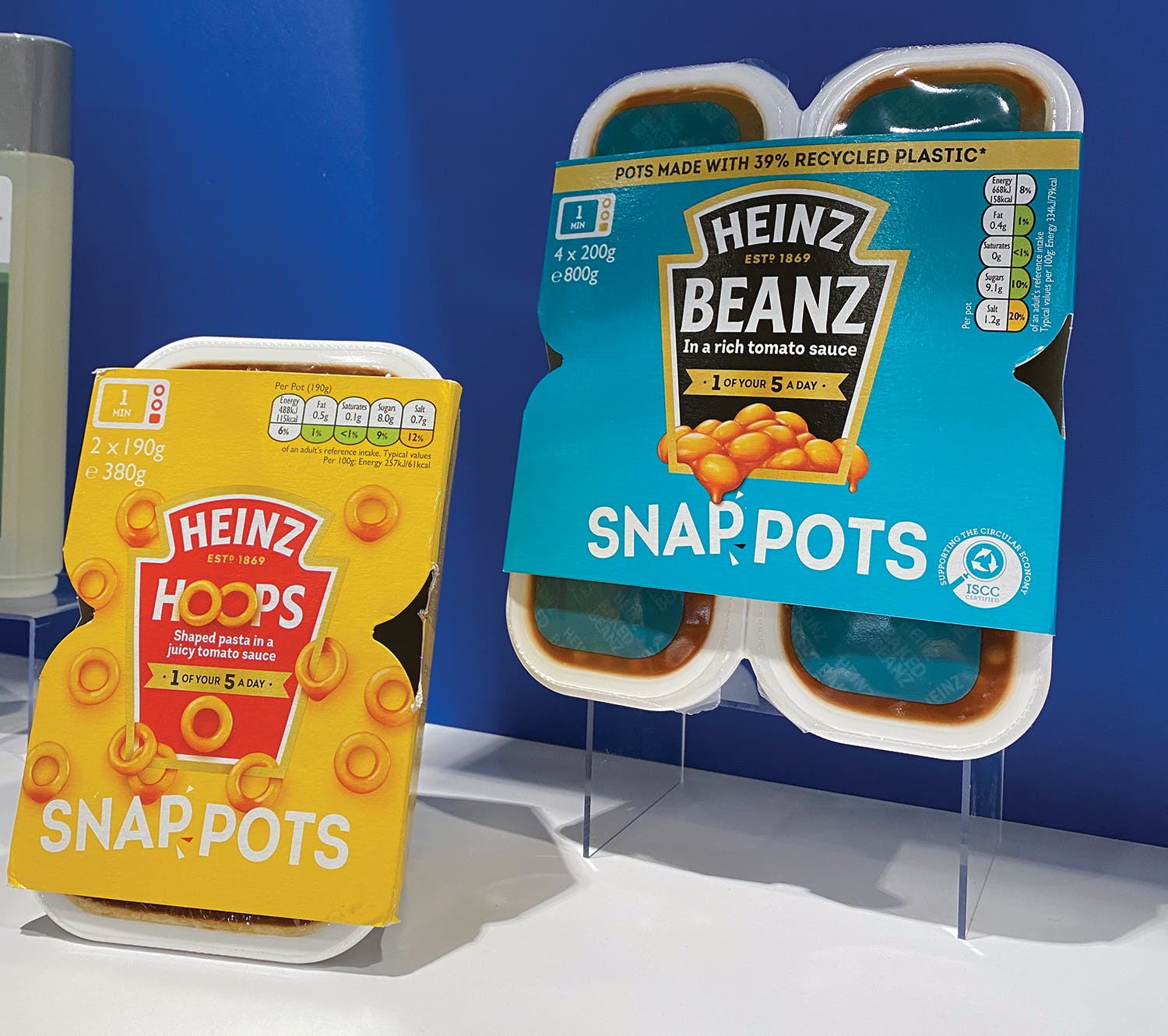 According to Berry, the flexible films collected in Tesco's stores are taken to Plastic Energy and  physically segregated for conversion by pyrolysis—the thermal decomposition of materials at elevated temperatures in the absence of oxygen—into an optimal oil feedstock. This feedstock, which Plastic Energy calls TACOIL, is combined with virgin material by SABIC to produce an alternative feedstock for making food-contact-approved plastic pellets. These pellets are sent to an ISCC-certified Berry Global site and combined in a coextrusion of PP/EVOH/White Masterbatch/PP-based adhesive. Then comes thermoforming, also by Berry. After Heinz fills and lids the pots, they undergo thermal treatment at 121ºC for about 30 minutes to render them shelf stable at ambient temperatures.
"This is a prime example of an innovative advancement in circular packaging design made possible by collaboration across the entire value chain," says Berry's Galvez. "This approach helps capture and reuse plastics that currently go unrecycled, to keep materials in use and out of our oceans and landfills."
The 50/50 joint venture between London-based Plastic Energy and Saudi-based SABIC is fascinating to say the least. It's called SPEAR (SABIC Plastic Energy Advanced Recycling BV), and it's being executed with a Top Sector Energy Subsidy from the Ministry of Economic Affairs in the Netherlands. That country, specifically the town of Geleen, is also the site of the new production facility. SABIC and Plastic Energy have worked together with leading customers and converters to produce and commercialize certified circular polymers since early 2019. But with the Geleen facility in commercial operation, SABIC can significantly upscale the production of certified circular polymers to provide customers with greater access to sustainable materials that have been recycled, repurposed, and produced in a way that can provide a drop-in solution that helps protect the planet's natural resources.
"Advancements in this pioneering project take us one step closer to driving the change needed to become a circular global industry," says Fahad Al Swailem, vice president, PE & sales at SABIC. "We have overcome significant external, global challenges to reach this important milestone and remain fully committed to closing the loop on used plastic. We are continuing to collaborate on an unprecedented level with our partners upstream and downstream to achieve this."
"It has been an exciting journey in making our vision of building advanced recycling plants come to life," says Carlos Monreal, Founder and CEO of Plastic Energy. "We have worked jointly with SABIC towards our common goal of making plastics more sustainable and moving towards a more circular economy for plastics."
The 39% recycled plastic that the new snap pots contain was validated using an approach endorsed by ISCC. This makes it possible to track the amount and sustainability characteristics of materials used in the manufacturing process. The recycled material meets the requirements of food-contact safety regulations and provides a replacement for virgin polypropylene in the thin-wall pack with no compromise on processability or mechanical performance.
"We want our Snap Pots to be more sustainable while retaining the features that make them so popular with consumers: their convenience, handy snappable format, microwavability, and ensuring the product remains fresh," says Héloïse Carlier, senior packaging development technologist at Heinz. "With this project and our introduction of the new Heinz Beanz Snap Pots, 22 tons of [flexible film] will be recycled."
To date flexible film packaging has been notoriously difficult to recycle. Until 2020, just 6% of the material was being recycled in the UK. It is hoped this venture will inspire the wider industry to take action in tackling this issue, both in the UK and other countries across Europe.
"We're proud to have teamed up with leading experts to bring this important innovation to our customers," says Jojo de Noronha, Heinz's president Northern Europe. "Our hope is that this prompts an industry-wide look at what more can be done to address the lack of [flexible film] being recycled in the UK, and we can, as a collective, get better when it comes to developing new packaging solutions that are good for both our consumers and for our planet."
• Technology Award Winner—Also newsworthy is that Berry Global's Proxima tethered closure (3) with tamper-evident band was named a winner of a PACK EXPO Technology Excellence Award in Sustainability from PMMI.

The Proxima tethered closure enhances opportunities for reducing litter and increasing recyclability of the closure, while still offering consumers a convenient and comfortable drinking experience for cold fill and aseptic applications, including still water and functional drinks. The design of the injection-molded polypropylene closure features a special tamper-evident band that, once broken, does not affect the closure's ability to remain attached. When opened for drinking or pouring, the closure is positioned at a wide angle, adjacent to the neck of the bottle, thus ensuring the bottle can be easily reclosed for consumer convenience.
This solution provides two important sustainability benefits. Because the closure is designed to remain intact with the bottle, it is less likely to be thrown away or littered. This can greatly reduce the possibility of the closure leaking into the environment. Equally important, keeping the closure on the bottle decreases the danger of littering and unnecessary plastic waste when closures are carelessly or thoughtlessly discarded.
Proxima is available in 29-mm and 38-mm diameters to fit various neck finishes. In addition to its user-friendly features, the closure can be specified in a variety of colors to help individualize product branding and maximize on-shelf appeal. Proxima meets current legislation on single-use plastics including the EU Directive 2019/204, which requires plastic beverage bottles up to 3 L in size to have closures that remain attached to the container throughout its intended use from 2024 onwards.
Paper-based can carriers
ClipCombo was big news at the PACK EXPO International booth of Graphic Packaging International. An innovation that combines multiple packaging solutions over a modular machinery system, it was selected as one of four PACK EXPO International Technology Excellence Awards by PMMI.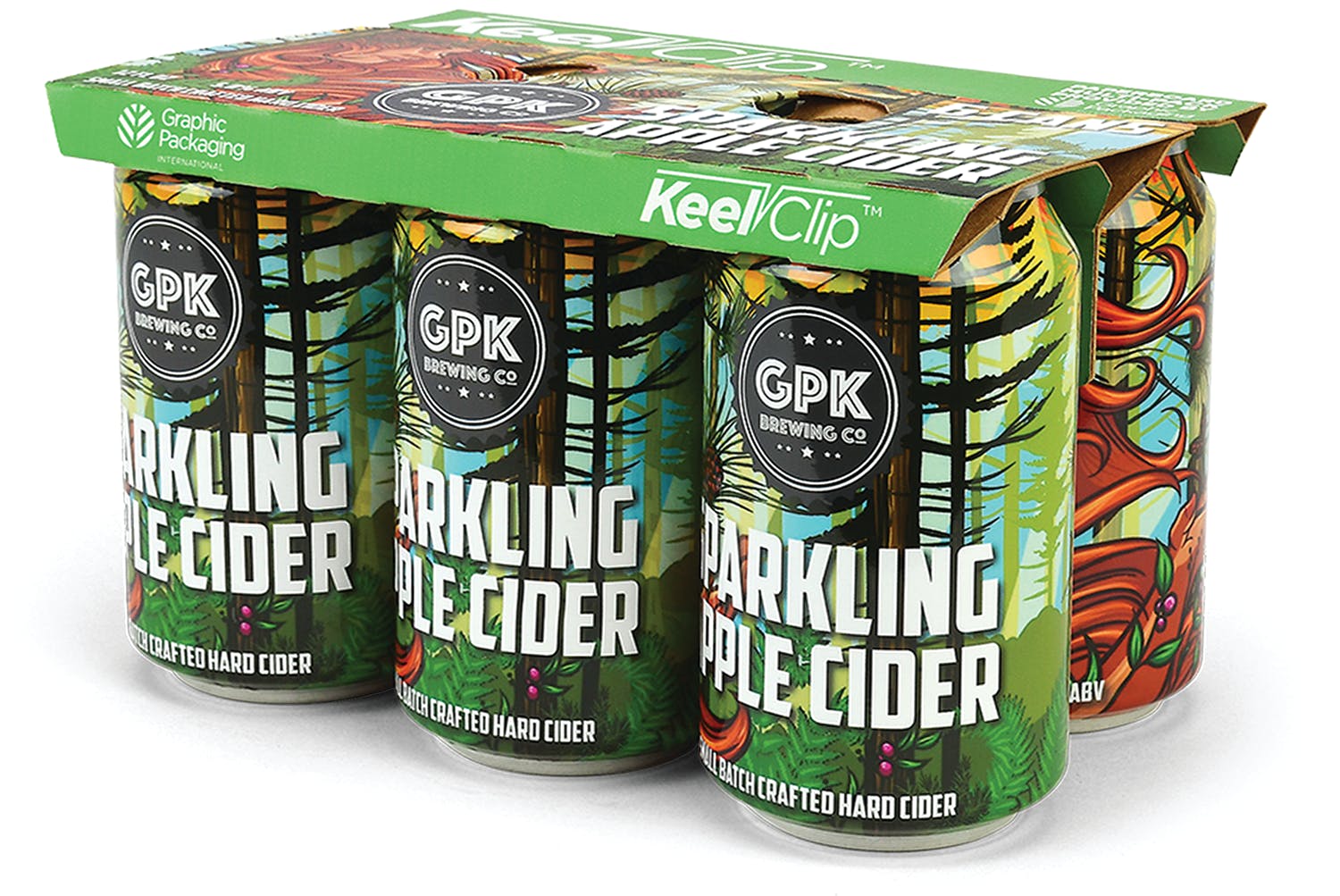 This new machinery approach to beverage packaging comes in two flavors, one for cans and one for PET bottles. ClipCombo for cans runs EnviroClip™, which is essentially a flat piece of paperboard that efficiently holds cans together. But the same machine can also run KeelClip™, (4) which is positioned as more of a premium option because it folds over the top and has more room for graphics—not to mention the fact that cans can be oriented to maximize branding opportunities. A third option that can also be run on this machine is GripClip, which is similar to KeelClip except that it doesn't include the center keel, which means it brings savings in paperboard cost.
ClipCombo for PET bottles runs EnviroClip or Cap-It (5). Designed for PET bottles with neck rings, Cap-It provides an on-the-shelf differentiation from other multipacks by combining both a beautifully printable paperboard billboard while still allowing a portion of the bottles to be visible. Like other options in GPI's clip portfolio, Cap-It is designed to maintain its pack integrity through the supply chain while also providing a comfortable consumer experience.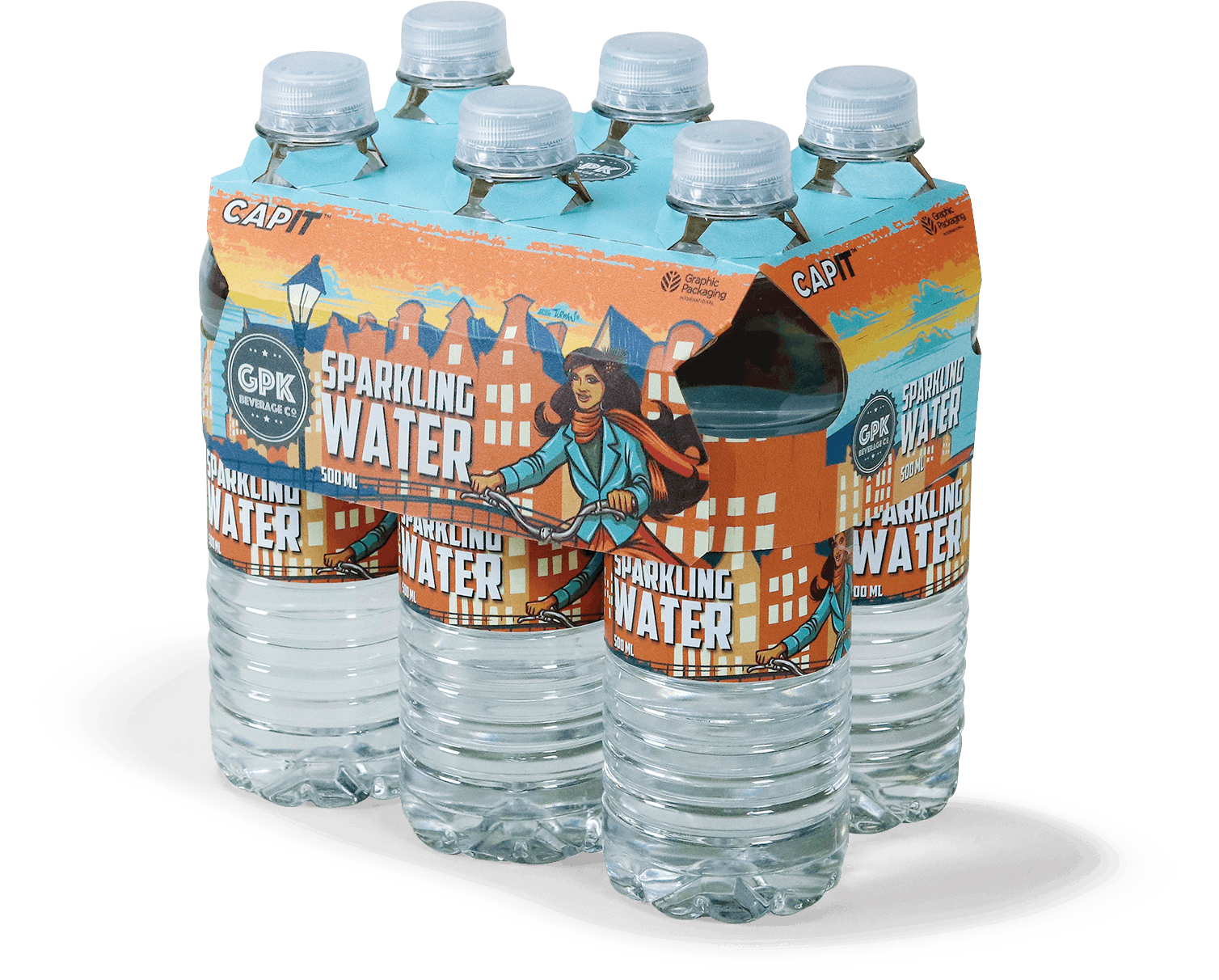 Boasting high speeds of up to 400 packs per minute (depending on application) and rapid changeovers as part of an impressive list of benefits, ClipCombo enables customers to differentiate between brands and position premium or standard options—all on one machine. Worth noting is that GPI also supplies the paperboard material for its various paperboard carrier offerings.
"We know many of our customers take their sustainability goals seriously, as do we," says Doug Hicks, vice president of the packaging machinery division at Graphic Packaging. "We also know that markets change and there is a need to future-proof machine system choices. That's why we're delighted to reveal the ClipCombo concept, a game-changing machinery philosophy that enables customers to select from a wide range of existing and new packaging options as well as container and configuration choices. Packers can combine products over a single machinery system, and be confident they have the options needed as the market evolves."
GPI is by no means the only company on the supply side of the packaging arena working diligently on paper-based substitutes for plastic ring carriers, and PACK EXPO International was a great place to catch up on at least three others:
• Krones offers equipment for the standard LitePac Top, a flat piece of paperboard that holds cans together. But it also has equipment for LitePac Top Promo Skirt (6) should customers want more room for graphics and branding. Also part of the portfolio is equipment for LitePac Top for bottles where a paperboard strap or "banderole" provides additional holding properties (7). Krones in its approach to these novel packaging concepts stays focused on mechanical machine engineering and partners with a number of paperboard packaging material suppliers.
• KHS offers a variety of paperboard can "toppers" that can be applied by its Innopack Kisters CNP (Carton Nature Packer) systems, including both a GreenClip option, which is a standard flat piece of paperboard that holds cans together, as well as the more premium-level TopClip (8) for more graphics and branding opportunities. Even more recently, KHS has introduced a paper wrapping concept that replaces plastic shrink film with paper (9). Like Krones, KHS focuses on the machinery side of the equation and partners with packaging machinery suppliers.
• Westrock's CanCollar family of sustainable beverage packaging solutions (10) comprises six options. Like GPI, Westrock takes the "razor and the razor blade" approach in going to market, as users of  CanCollar technology purchase the paperboard from Westrock. In the center is CanCollar Classic. Left to right are CanCollar Shield, CanCollar Shield Plus, CanCollar EcoPlus, PremCollar, and CanCollar X. Most impressively, the CanCollar Fortuna machine featured at Westrock's PACK EXPO booth is capable of producing five of the six members of the CanCollar family. This capability is due in large part to the machine's use of the ACOPOStrak linear drive system from B&R.
Watch a video of Westrock's CanCollar Fortuna at pwgo.to/7824.
Photo 8—KHSWhat about foodservice packaging?
ProAmpac used PACK EXPO International to launch in the U.S. its Fresh Food To-Go line of sustainable, fiber-based packaging (11) designed specifically for the on-the-go convenience retailer. ProAmpac says it specializes in the design and manufacture of fresh sandwich packs, trays, wraps, and soft packs for hot and cold food applications in deli, quick service restaurant (QSR), convenience store, and supermarket in-store markets, among others. According to the company, these products use two distinct routes toward sustainability in that they reduce avoidable packaging and offer extended shelf-life formats to reduce food waste.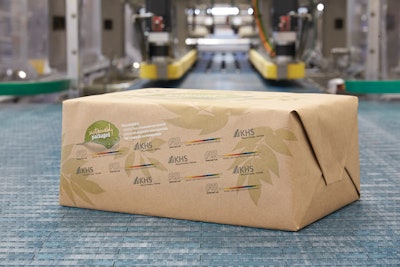 "ProAmpac's fresh food to-go packaging has been used in the UK and Europe fresh food market for decades. We are pleased to bring these products to North America. Our HandRap has just hit store shelves for the first time in the USA and we are getting great feedback from the stores on ease of use," says Irma Randles, marketing director for ProAmpac.
The company says the format keeps food fresh and offers an elevated appearance in either a hot cabinet or chiller. Also, by weight, the largest component of ProAmpac's fresh food to-go packaging is paperboard and paper, a renewable resource from certified, well-managed forests. In many formats, the paperboard can be recycled after being easily separated from the film by the consumer.
Having received the above information in advance, PW editors were primed to check out the foodservice packaging spread at the show, and Sal Pellingra, VP global package design, applications & business development at ProAmpac, didn't disappoint.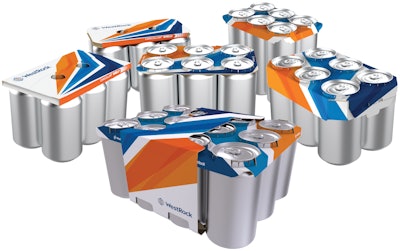 "I think one of the biggest game-changers in North America is really this movement toward sustainability," says Pelllingra. "Sustainability can mean a lot of things. It can be the trend toward mono-materials that can be recycled, and also the use of PCR. But another really big one is a huge change in moving from rigid plastic and thermoformed plastic structures, like plastic trays or clamshells, to paper-based or fiber-based structures."
Different models of use for QSRs, deli, and convenience can use these packs for day-fresh products, for medium fresh with some shelf life, "or they can be modified atmosphere packaging (MAP), and depending on what's inside, can stay fresh for anywhere from seven to 28 days," Pellingra adds. "The oxygen barrier on some of these products gets down to 1%."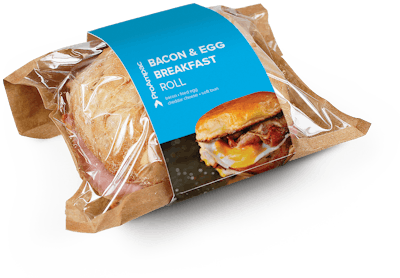 At PACK EXPO, Pellingra specifically demonstrated a product in the line aptly called a sandwich wedge. He describes further, "These are two materials, a combination of fiber and film. There's a dual label on these, where you remove the [unrecyclable] plastic film, but the paperboard is recyclable. On current [thermoformed] clamshells, there's no printability, so you can only put a label on them. On [the Fresh Food To-Go sandwich slice pack], you can put artwork all the way around. And you're reducing the amount of virgin packaging materials, which is key. They're customizable, use modified atmosphere, they reduce the amount of packaging materials, and they reduce the amount of virgin plastic resins."
Pellingra says that the sandwich wedge pack formats are all over shelves in the UK already, for instance at upscale convenience retailer/QSR Pret a Manger.
While ProAmpac supplies the packaging materials, the company has partnered with JBT Proseal, a tray sealing machine manufacturer, to offer North America's first in-line sandwich packaging testing lab at ProAmpac's Collaboration & Innovation Center (CIC). Designed to form and seal fresh sandwich packaging, Proseal's GTSV machine will be used to optimize packaging design while allowing customers to run trials on new packaging formats without disrupting commercial production operations.
"The recyclable fiber board sandwich packaging format is in early-stage adoption in North America. Having a facility to showcase the packaging functionality on a commercial-scale sealing line allows our customers to experience this new technology," says Randles. "The fiber format has been an industry mainstay in the UK for years and continues to grow. However, Proseal's GTSV is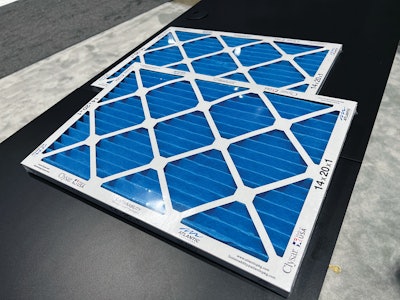 the first in-line sandwich high-speed sealing machine in North America."
Watch a related video at pwgo.to/7825.
New shrink film
Debuted at PACK EXPO International, the recyclable Clysar Ultra LEG shrink film is an advanced new polyethylene (PE)-based polyolefin shrink film that is prequalified for Store Drop-Off by How2Recycle. We'll begin with a list of features this new film exhibits to set the stage, then dive into a new, in-market product that Clysar President Vicki Larson talked about in the booth.
Ultra LEG shrink film is a gentle, or "low-energy" polyolefin that can improve shelf appeal by being gentle to the products around which it shrinks. In fact, the film exerts approximately 40% less force on products during shrinking than competitive low-energy film, according to the company. This makes it ideal for delicate or collapsible products, allowing them to retain their natural shape without the shrink force bending or otherwise distorting the products. Its high availability shrink makes for crisp, tight shrink packages, and its balanced, all-around shrink eliminates dog-ears and other flaws. With all these factors considered, it results in good shelf impact where it's applied. The company says that Ultra LEG is easy to use and creates consistent, attractive packages without major fine-tuning, rejects, or waste.
The film also can be processed at lower temperatures, making it a good choice for heat-sensitive products. Low seal and shrink tunnel temperatures reduce energy use in packaging operations. Tunnel temperature for clean shrink typically starts 25°F cooler than traditional polyolefin shrink films, and sealing for hot knives starts at approximately 300°F. Energy reduction is good for both sustainability measures, and for the bottom line given energy input costs. The thin-gauge film also provides material reduction or lightweighting opportunities, again good for a brand's sustainability profile.
With these stated qualities, Clysar's Ultra LEG film is an ideal fit for many markets. But center of the bullseye and demonstrated at PACK EXPO International was an application for furnace filter packages (12). Furnace filters are so delicate that most non-PVC films would end up bending the filter pack while shrinking in the heat tunnel. But as furnace filter producers seek to eliminate PVC from their lineup for health and sustainability reasons, they still need to maintain a thin, light film that requires only low heat to shrink. The Clysar Ultra LEG film stands out for this application, as well as calendars, school paper, and other product ranges with similar qualities.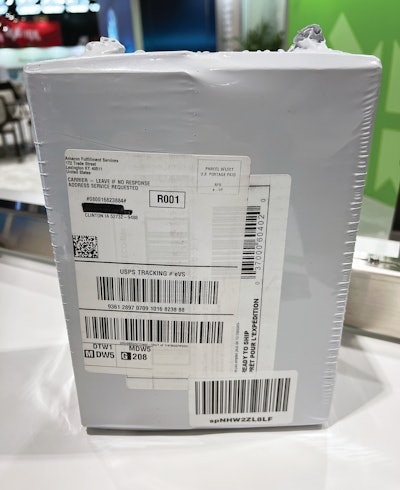 "Traditionally, furnace filters have tended to use PVC," says Larson. "And the reason why they're in PVC is because PVC uses a single bubble. It's more of a cast technology. So they can control how much the film shrinks in the machine direction and in the transverse direction. That's why PVC has been so prominent in the furnace filter industry, because nobody wants this to bend on the shelf.
"But our Clysar technology uses a double bubble. We blow a tube, and then we blow a big bubble. You get equal shrink in both the machine direction and the transverse direction," she continues. "We've been able to develop a film through process and formulation (chemistry rules and technology rocks, right?) that allows us to do this in a true polyolefin. Any other polyolefin would bend this [package, a furnace filter in a primary paperboard carton]. Ours doesn't."
Clysar's Ultra LEG Film is very thin, lightweight, 40-gauge material. In the PACK EXPO International furnace filter demonstration, the film makes up only 0.5% of the total package.
"From a film standpoint, we've also been able to make it in a way that is approved for store drop-off [recycling]. So we have three approval items already for this product, launching it so that they're commercially in stores today [Oct. 23, 2022]."
Beyond furnace or air filter type of products as described above, good applications for the Ultra LEG Film include protective apparel, like face masks; stationary, stickers, and thin paper products; open-sided chipboard cartons; magazines, calendars, and other low-profile items; craft, hobby, and collectible products; bundled printed materials; and candy and confectionery products.
The recently improved EVO-C (Confidential) shrink film (13), displayed at the Clysar booth at PACK EXPO International, is a recyclable, ultra-durable, opaque film now available with Post Consumer Content (PCR). The company says it is ideal for secondary shipping and stabilization, UV protection, product masking, and containment.
EVO-C film is part of a larger Clysar EVO family of shrink films that is safe for the recycling stream, having undergone significant testing to ensure that it meets the rigorous new protocols and revised requirements of the How2Recycle program. These films are one of the few current polyolefin shrink film structures that qualify for the official How2Recycle Store Drop-Off label, the company says.
The opacity of the film provides privacy for consumers ordering sensitive materials through the e-comm channel. It also adds a layer of protection against porch piracy since potential thieves can't see what the shrink-wrapped pack contains to assess its value.
The EVO-C product has been around for three years, so PW asked Vicki Larson, Clysar president, what's new about it? Why display it here and now?
"Clysar has improved the environmental appeal of our EVO-C film on several fronts. We have been able get the same 'hide,' or the same opacity level with some downgauging—formulation is so important. What we're launching today at PACK EXPO is that EVO-C has PCR (post-consumer recycled content)," she says.  "Now, we can answer the P&Gs of the world who say we need to be using recycled content material.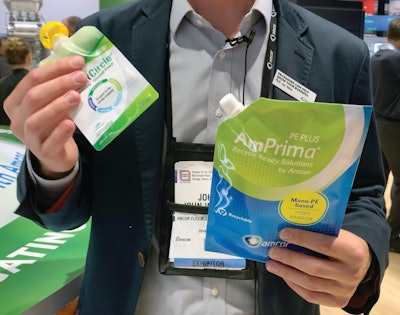 "Clysar addresses the e-commerce market from all sides—whether you just want the privacy feature, so the shrink-wrapped product goes into an Amazon overbox, or whether your product goes through the mail without the overboxing, so our shrink film serves as the secondary package." (According to Clysar LCA data, packaging volume can be reduced by as much as 80% using EVO-C shipping film to replace the overbox.)
Speaking of P&G, displayed at the Clysar booth was P&G's now-famous Tide box, a SIOC (ships in own container) format that eliminates the need for overboxing, and instead uses EVO-C shrink film. By removing the need for overboxing and using shrink instead, it reduces weight, size, and the amount of material used, all sustainable qualities that brands like Tide are looking for.
And now, brand-owners can also say their packaging films are using PCR, as well, building toward a more circular plastic economy.
"Right now, everyone wants to use recycled content, but it's not vastly available, especially not in the highly transparent qualities that brands need to display their products," Larson adds. "But because this is an opaque shrink film, I can get a white [as opposed to the usually preferred clear] film into the formulation for both opacity and use of PCR."
Odorless Concentrate Using Recycled PPPhoto 15—Amcor
Milliken & Company and PureCycle Technologies, Inc. have created a new concentrate for polypropylene (PP) designed to allow for greater use of 100% recycled content. Additionally, the companies report that when used in combination with PureCycle's recycled PP (rPP), it produces a formulation with a carbon footprint that is approximately 35% lower than that of virgin PP.
A common concern among those looking to incorporate recycled content is whether the material's color and formulation will compare to virgin material and the aesthetic that consumers are used to. Because PureCycle's technology separates color, odor, and other contaminants from PP waste feedstock to transform it into ultra-pure, virgin-like resin, the new concentrate offers promise in making rPP an attractive option for PP converters seeking quality and crystal-clear clarity.
The new concentrate has been formulated using Milliken's Millad NX 8000 ECO clarifier, which as Milliken's Brian Burton explained at the show, has been on the market for some time. Also of note is that the certified energy savings by using resin produced with this clarifier allows brand owners to display the UL Environmental Claim Validation label on their injection-molded parts.
As Burton noted, while some recycled content is downcycled into products such as flower pots and park benches, this is FDA-approved material that can be incorporated right back into food packaging, "so it really opens up the applications you can use it for.
A portfolio of sustainable choices
Recycle-ready with no compromise on performance was a prominent theme at the Amcor booth, as Amcor Flexibles introduced a range of AmPrima PE PLUS applications (14). A portfolio of more sustainable choices, AmPrima employs a variety of technologies that deliver the stiffness, clarity, graphics, and machineability that match the performance of current nonrecyclable alternatives. Especially impressive were these: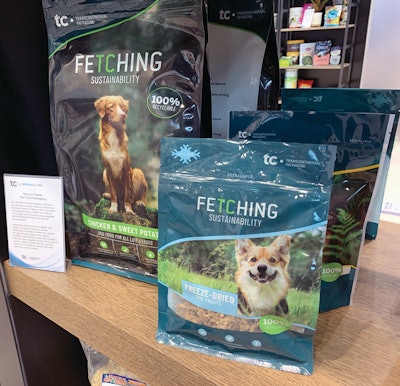 • Beverage, puree, and sauce pouches—These pouches require moisture and oxygen barriers to preserve the contents inside, as well as highly durable hermetic seals along pack edges and around opening spout fitments. Previously, only mixed-material film structures have delivered such performance characteristics, structures that are difficult to recycle. But now Amcor offers an innovative and recycle-ready high-barrier flexible film providing superior heat-resistance, a custom-engineered sealed layer for improved hermeticity and leak prevention, and puncture and scuff-resistance for durability throughout distribution. Amcor describes it as the first high-barrier, high-speed, heat-resistant, recycle-ready solution for beverage, puree, and sauce spouted pouches.
• Shredded cheese pouches—Capable of running at high speed and offering all the heat-resistant properties needed, AmPrima PE Plus film for shredded cheese offers high barrier and is compatible with recycle-ready zipper solutions. Its environmental benefits have been calculated by ASSET, Amcor's unique Carbon Trust-certified Life Cycle Assessment service, and the results are impressive. Compared to a current market offering such as 48-ga OPET/PE/EVOH-PE/mLLDPE, AmPrima Plus film, when recycled, delivers a 75% reduction in non-renewable energy use, a 58% reduction in carbon footprint, and a 54% reduction in water consumption.
• Flow wrap applications for wet wipes—Typically, wet wipe packages use OPET or OPP layers, rendering them unrecyclable. This presents a problem for brand owners. Amcor has developed a new, more sustainable flexible film for wet wipes that provides all the heat resistance, clarity, and stiffness compared to standard laminations currently in use.
Also on the innovation front, Amcor Rigid Packaging introduced its DairySeal line of packaging (15) that features ClearCor, an advancement in oxygen barrier technology for PET bottles. The new barrier technology, says the company, has "higher levels of concentration encapsulation in the center of the preform, allowing less barrier to be used while being more effective." This allows for more PCR in use, longer empty bottle shelf life, and improved design options (compared to other packaging formats) for the fluid dairy segment. The technology has a positive impact on the overall performance of the barrier and maintains recyclablilty. "PET is the most recycled plastic in the world, with more than 1.8 billion pounds of used PET bottles and containers recovered in the U.S. each year alone," notes Greg Rosati, Amcor Rigid Packaging vice president of marketing & strategy for specialty containers. "With the development of our DairySeal line, we are able to offer PET packaging that helps improve sustainability for brands in the dairy alternatives, nutritional drinks, and ready-to-drink coffee space."
The DairySeal line in PET is available in 8-, 11-, 12-, and 14-oz stock options, with additional sizes and shapes planned for the future.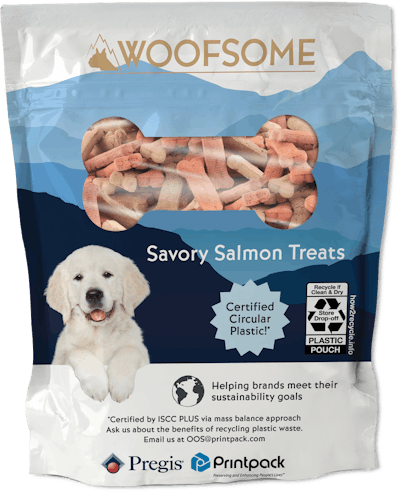 Also new from Amcor Rigid Packaging is PowerPost. By actively displacing the vacuum in a hot-filled PET container after filling, this technology delivers a bottle that allows for up to 100% recycled material use, is nearly one-third lighter, and offers 30% energy reduction and 30% carbon savings over most 20-oz bottles available today, says Amcor. PowerPost builds on Amcor's patented vacuum-absorbing PowerStrap technology, a flexible ring surrounding the PowerPost. After hot-filling, the post is inverted to actively displace vacuum inside the container, and as the product cools down, the surrounding ring flexes to passively absorb any remaining vacuum pressure.
"Our engineers have developed technology that pushes the boundaries of lightweighting in the hot-fill arena to help our customers meet their cost and sustainability needs," says Terry Patcheak, vice president of R&D, sustainability, and project management at Amcor Rigid Packaging. "This next-generation innovation will improve the consumer experience while addressing widespread commitments to reduce material use and lower greenhouse  gas emissions."
Home, personal care, and pet markets
Rolling out at PACK EXPO International this year was TC Transcontinental's vieVERTe recycle-ready PCR flexible packaging material, which comes in two variations: one with 38% PCR, and the other with 50% PCR. Rebecca Casey, senior VP of marketing & strategy at TC Transcontinental, says vieVERTe is aimed at the home and personal care market, but is also ideal for the evolving pet food market (16).
"Pretty much the whole premium pet food side of the business revolves around having recyclable packaging," says Casey. "That's driven by consumers. And when we look at back at 2018, when China decided they didn't want to take our plastic waste anymore, it became more evident to consumers that, as a country, we weren't really recycling our materials. And I think they've become more educated. When we talk about only 9% of plastic is recycled in the U.S., consumers know they put more than 9% of plastic in their recycle bins. So they're putting a bit more pressure on the consumer product companies, and a lot of consumer product companies are saying we need to do the right thing for our planet. So it's kind of a push forward in all directions."
Casey adds that according to a recent Mintel study, 49% of new consumer products—like premium pet food, for example—include some claim of environmentally friendly packaging, so TC Transcontinental's vieVERTe flexible packaging material fits right into this trend.
Sustainability through collaboration
Debuting at PACK EXPO was a first-of-its kind flexible pouch from Printpack, the Preserve PE Advanced Recycled Content Polyethylene Pouch (17), that is not only recyclable after use, but also contains 30% post-consumer recycled material obtained through advanced recycling technologies. The pouch is the result of a partnership between Printpack, Pregis, and ExxonMobil, where Printpack's machine direction-oriented PE print film is used in combination with Pregis Performance Flexibles Renew™ Series sealant film made with ExxonMobil Exxtend™ advanced recycling resin technology.
Preserve PE Advanced Recycled Content is the latest addition to Printpack's Preserve sustainable packaging platform. "This encompasses a portfolio of eco-friendly structures that use renewable and post-consumer recycled content, as well as maximizing design opportunities for greenhouse gas and source reduction and an optimal end-of-life condition," explains Bill Barlow, sustainable innovations manager for Printpack. "The Preserve Recyclable PE packaging solutions offer many of the benefits of current flexible packaging, including ease of transport, product-to-package weight ratio, and reduction of carbon footprint, as well as several barrier options."
The Preserve Recyclable PE line meets brand owners' growing desire for mono-material flexible packaging that can be recycled via store drop-off. As Barlow shares, this past year, Printpack was part of the largest store drop-off recyclable PE launch for the snack bar market in collaboration with General Mills and the Nature Valley brand.
While there are quite a few options available today for flexible films that can be recycled through store drop-off, more of a challenge has been to provide brands with film that contains recycled content—especially for food applications—given the limitations of mechanical recycling and FDA guidelines for food contact.
"We actually have been successful with mechanically recycled PCR content within a finished package up to about 30% recycled content, however, there are limitations due to the grades available in the market—with FDA no objection letters—and also due to performance issues with the addition of high levels of mechanically recycled content," says Barlow. "Additionally, there are still some aesthetic issues with mechanical PCR such as gels, degraded material, fibers, and other contaminants; these are difficult to mask in a flexible package."
Using resins made from an advanced recycling process completely eliminates these issues, as the resins from the process are identical to those made with virgin plastics. In addition, Barlow notes that with advanced recycling technology, the potential to create a flexible film pack with greater than 90% PCR has become a reality.
ExxonMobil's Exxtend advanced recycling technology breaks down plastic waste to its molecular building blocks while removing contaminants. These are the molecular building blocks that form the raw materials for making its products, which are identical to those made from virgin fossil feedstocks.
According to Barlow, ExxonMobil approached Printpack in August 2022 regarding the project, which the company welcomed without hesitation. "We view both Pregis and ExxonMobil as strategic partners of polyethylene resin and film in the flexible packaging market, and we were looking for an opportunity to collaborate with companies like this that share a similar sustainability vision to ours.
"We cannot meet the demands for sustainability alone, and this was a perfect opportunity to collaborate and bring something to the market that folks have been talking about for some time. We turned this project around in less than 30 days. That takes a true team effort."
Exxtend circular polymers are certified according to the ISCC PLUS (the International Sustainability and Carbon Certification Plus) program. The resin can be offered in an array of PE grades, which Barlow says is attractive for Printpack and Pregis, as it allows them to develop flexible packaging films to meet the same performance requirements as conventional packaging structures. "Ultimately, with this technology, we don't have to compromise on performance, that's why it's attractive," he says.
Pregis' sealant film contains 45% advanced recycled content. When laminated to Printpack's PE film, the overall pouch structure contains 30% recycled content. The resulting structure also is prequalified for the How2Recycle store drop-off label and meets the Association of Plastic Recyclers (APR) Design Guidelines for Flexible Packaging. Says Barlow, "As far as I know, this is the first recyclable polyethylene pouch in the market that employs the advanced recycling technology and certified circular resins."
As with most advanced recycling technologies currently on the market, product is limited, as these companies work to scale up production. Barlow says Printpack hopes to have a major brand on-board soon to commercialize the new film and help build volume. "There is material available for Printpack and Pregis from ExxonMobil, and we expect to scale it up all the way into the first quarter of next year and beyond," he says. "Ultimately, we have to get a brand that's going to pull this through and really get some volume commitments. Knowing that there's demand for this and that our brands and consumers need it and want it really helps with future investments and capital expenditures."
70% PCR Polyethylene Resins
As manufacturers across sectors look to incorporate post-consumer recycled content (PCR) into their packaging and reduce CO2 emissions and energy footprints, Dow showcased its REVOLOOP recycled plastic polyethylene (PE) resins product portfolio at PACK EXPO International. This marks the first commercial REVOLOOP launch in North America.
The REVOLOOP resin is designed with 70% PCR, which provides up to 40% recycled content in the final product, Dow reports, while providing similar quality and performance as materials made with virgin resins. Two commercial grades are available for packaging like shrink wrap and stretch.
REVOLOOP resins are the first polyethylene (PE) compounds to achieve certification in accordance with the Standard UNE-EN 15343 for plastics recycling traceability and recycled content by Spain-based AENOR.
"Our customers have consistently asked us for more recycled plastic feedstock for packaging," says Alex Saba, senior marketing director, packaging & specialty plastics at Dow. He emphasizes Dow's ambition—not in merely stopping the waste—but to "Transform the Waste" in support of efforts to limit the amount of plastic waste that ends up in landfills and reduce greenhouse gases.
Saba adds that Dow is positioned to offer supply chain continuity for those looking to incorporate PCR content, with their own compatibilizers, virgin resin supply, and a large footprint of global assets to deliver consistent supply in the formulation needed. With customers looking for resin upgrades without building entirely new lines, Dow is prepared to work with customers and address challenges that companies face as they look to switch to resins that rely less on virgin plastics.
While the company has begun with shrink films, they are also looking at sustainable materials for rigid and food-contacting applications.
Protecting the oceans
Today, only around 10% of plastic waste globally gets recycled, while the rest ends up in landfills, in incinerations, and leakage to nature or the ocean, according to UPM Raflatac. In fact, one of the most visible issues in packaging today is plastic pollution in the ocean. And the 10 largest sources of ocean contamination with plastics exist in Southeast Asia, where massive rivers carry plastic waste to the ocean.
The problem is that the world needs ways to reuse existing, post-consumer plastics. Packaging World spoke with Bob Taylor of UPM Raflatac at PACK EXPO International about the issue, and what his company is doing to address it.
"We're trying to create pull-through [markets] for the plastic that's been recovered, either from the ocean or before it enters the ocean, to be used as a raw material for plastic packaging and labeling going forward," he said at the show.
In Southeast Asia, efforts are being made to recover ocean-bound post-consumer plastics before they even get to the ocean, where they could perhaps degrade. But in a wrinkle, both suppliers and brands operating in this new supply chain need to be cautious about regional issues like the use of child labor. To ensure a clean, ESG-friendly supply chain, UPM Raflatac is sourcing certified Ocean-Bound Plastic (OBP)*.
To do so, the company is working with several certifying NGOs to arrive at its Ocean Action line of p-s labels.
Collected ocean-bound plastics are first sorted, so anything that can be recycled mechanically in traditional recycling formats, will be. But the worst-of-the-worst is then redirected to a chemical (also called advanced) recycling process, where the degraded polymers are reduced to monomers, then built back up into higher quality polymers, in this case polypropylene (PP).
"And then we're using that material to make the film which is creating the base for these two new products," Taylor says, noting that his company acts as the converter in the supply chain, supplying labels to printers who supply brands.
The two new label products UPM Raflatac launched, called its Ocean Action products, are its Ocean Bound PP C-PCR White, and its Ocean Bound PP C-PCR Clear. White contains 85% ISCC (International Sustainability & Carbon Certification) PLUS Certified chemically recycled PCR material using a mass balance approach. Clear contains 90% of those C-PCR certified materials.
Since the two PP labels are mono-material themselves, as long as they're on a PP package, their end of life should consist of recycling yet again, in exactly the same way as any other mono-material plastic.
"Mono-materials is the way that packaging designers are pushing, so as long as [these C-PCR labels are] on the right package, they should be able to be fully recycled again," Taylor concludes, referencing the truly circular model that brands and their suppliers aspire to.
According to the company, "Ocean Action is a perfect fit for fast-moving consumer goods (FMCG), such as household products, personal care, packaged foods, and beverages."
"Our goals are to help companies reduce their packaging footprint, reach their sustainability goals, and create added brand value among environmentally aware consumers," states Ashley Drew, sustainability manager, UPM Raflatac, Americas.
* According to ZERO PLASTIC OCEANS, Ocean Bound Plastic (OBP) is plastic waste defined as "at risk of ending of in the ocean." OBP is estimated to generate 80% of plastic marine litter. OBP is an "Abandoned Plastic Waste" located within 50 km from shore where waste management is nonexistent or inefficient.
Mono-materials
From Constantia Flexibles is a line of mono-material film solutions (18), the Ecolutions family of recyclable packaging, which includes the EcoLam, EcoVer, EcoPaper, and EcoAlu product lines. Says Pim Vervaat, chief executive officer of Constantia Flexibles, "Multi-material packaging, in particular, causes major challenges for the industry, as it is difficult to recycle. Therefore, we are focusing on safe and equally high-performing mono-material solutions to meet the circular economy and to promote a more sustainable tomorrow."
Shown at its booth, Constantia Flexibles' EcoLam mono PE laminates are thinner, more heat resistant, and are said to offer a wider sealing window than other products in the sector. Another feature of the film is its barrier characteristics, which can be adapted to the content. For example, Constantia says, EcoLam offers a water vapor barrier, EcoLamPlus has an additional barrier against oxygen, aromas, and mineral oils, and EcoLamHighPlus provides aluminum-like barrier properties.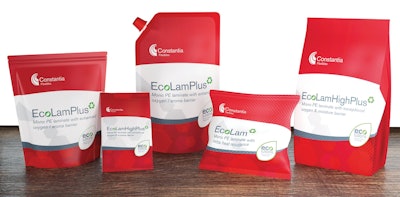 The recyclable EcoPaper family includes a range of individual paper solutions. Among them is EcoPaperPlus, which is recommended for applications that require a medium barrier against aromas and grease, such as confectionery, snacks, and household and personal care products.
EcoVer mono-polypropylene solutions are available in various barrier levels and can be used for a number of different packaging applications. According to Constantia Flexibles, EcoVer's high thermal resistance offers new possibilities. "The packaging solution features an improved outer layer in combination with a sealing layer that starts to seal already at low temperatures to allow a wider sealing window," the company says.
With 50% less thickness than standard coatings, the EcoPeelCover from the company's EcoAlu product line provides a more sustainable sealing solution for PP and paper cups. The EcoPeelCover does not use solvent, is printed via UV flexo, and offers a sealing temperature range of 200°C to 280°C.
The EcoPressoLid capsule lid from Constantia Flexibles is compostable and bio-based, and it is suitable for sealing the top and bottom of compostable coffee capsules. The EN13432-certified material was awarded OK Compost Industrial by TÜV Austria in 2022 and features a high oxygen barrier and excellent performance during the brewing process—two essential properties for high-quality, sustainable capsules, notes the company.
Together with Dutch film manufacturer Plasthill B.V., Constantia Flexibles has developed its latest innovation, the CompresSeal technology. It is based on a new micro-embossing technology that enables the basis weight of polyolefin sealing films to be reduced by up to 30% without any change in packaging thickness.
Shares Vervaat, "We are most proud of our EcoPressoLid and CompresSeal innovations. They perfectly reflect how crucial investments in research and development are to make the packaging industry more sustainable."
Alternative to glass and rigid plastics
At PACK EXPO International, Glenroy previewed for PW a recyclable STANDCAP. It was soon after announced on Dec. 1, five weeks later, that after a two-year development process, Glenroy had received critical guidance recognition from APR (Association of Plastics Recyclers) for its 100% PE recyclable STANDCAP (19). The company says this is a completely eco-friendly alternative to rigid plastic and glass bottles.
The recognition as a #2 recyclable package enables brands to move closer to meeting their Environmental, Social & Governance (ESG) goals and enables retailers to offer consumers an even more sustainable flexible packaging alternative to rigid plastics and glass.
"The availability of the recyclable STANDCAP is a major win for consumers, retailers, food manufacturers, and the overall health of our environment," says Evan Arnold, vice president of business development at Glenroy. "For consumers, this means being able to choose all the benefits of sustainable flexible packaging while also supporting a circular economy. For retailers and food manufacturers, it means a more environmentally friendly product on store shelves. And, for the environment, this helps put America on the path to significantly reducing plastic waste."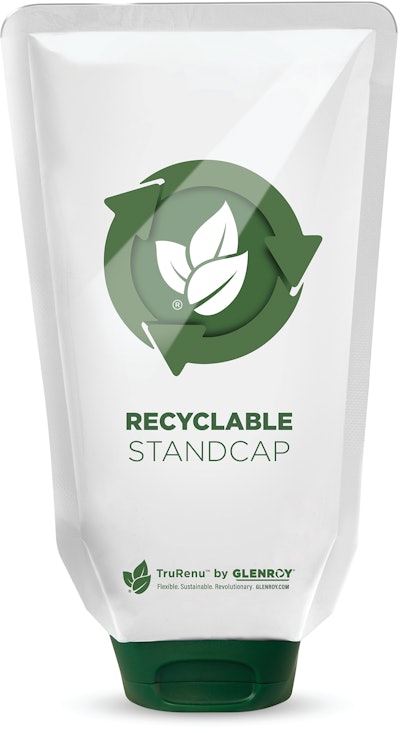 Instead of waiting for recycling technology to improve, Glenroy invested two years in developing a product that can be recycled now, using the existing infrastructure. This investment can pay immediate dividends for food and personal care manufacturers' and retailers' sustainability goals.
As part of Glenroy's TruRenu sustainable flexible packaging portfolio, STANDCAP can have profound effects across the spectrum and is poised to help major brands and retailers in their efforts to achieve their sustainability and ESG goals. Not only does the recyclable STANDCAP have the potential to eliminate millions of pounds of plastic from being produced every year (Glenroy estimates that if just one leading condiment manufacturer switched only 10% of its ketchup bottles to the recyclable STANDCAP, it would eliminate 2,600,000 lbs of plastic from being produced and landfilled every year–the equivalent weight of about 28 Boeing 737-800 airliners), but it also delivers a lower carbon footprint through using 42% less fossil fuel, emitting 52% less greenhouse gas emissions, using 70% less water, and reducing landfill waste by 30% (as compared to the rigid plastic alternative).